2021 Spring Ride
Unfortunately, Spring Ride 2021 has been cancelled.
by Jeanne Gonzalez, Co-Chair
This year's ETI Spring Ride will be in Bear Valley Springs near Tehachapi, June 7-13, 2020.  Tehachapi and BVS are about a 2-hour haul from the Los Angeles area.  ETI's famous cook crew will prepare our meals (breakfast, a variety of lunch fixin's, appetizers, dinner, and dessert).  Trail bosses will lead us on 4 days of wagon-wheel rides, with a duration of 4-6 hours including lunch, through the valley and mountain trails.
In camp our equine pals will have corrals to stay in, and there are plenty of water spigots.  Camp sites do not have electricity; however, there are showers and toilets nearby for those not self-contained.  Riders will have plenty of time for rest and social time with other riders.  Midweek we have a day of rest when riders can explore the nearby town of Tehachapi, hike, sleep in, head over to the winery for a taste of the local wine, or even a game of golf… then come back for our rousing Corn Hole tournament.
Bear Valley Springs is a private gate-guarded community located in the Tehachapi Mountains in California.  With 25,000 acres of land, elevations range from 4,118 feet to 6,934 feet (Bear Mountain).  BVS amenities include a country club, golf course, tennis, equestrian center, horse trails, rifle range, swimming, indoor recreation, lakes and wilderness areas.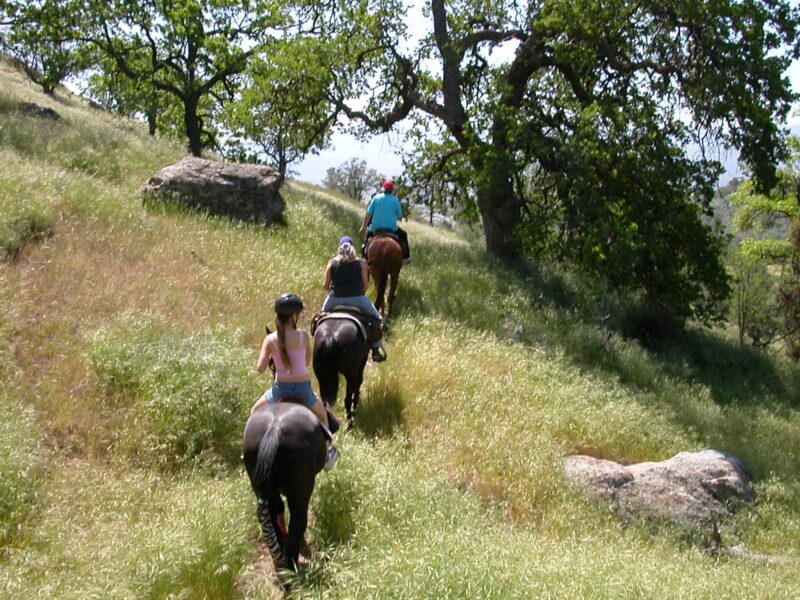 Originally settled by the Fricket family in 1859, BVS remained an isolated and remote hidden valley.  By the early 1900s the family had expanded their holdings to 25,000 acres.  By 1959 the immediate family had passed, the heirs of the ranch eventually sold to a developer, and Bear Valley Springs was born.  In the early 1970s the first properties were sold.  Over 1700 homes have been built, maintaining the rural life that is the charm of this hidden valley.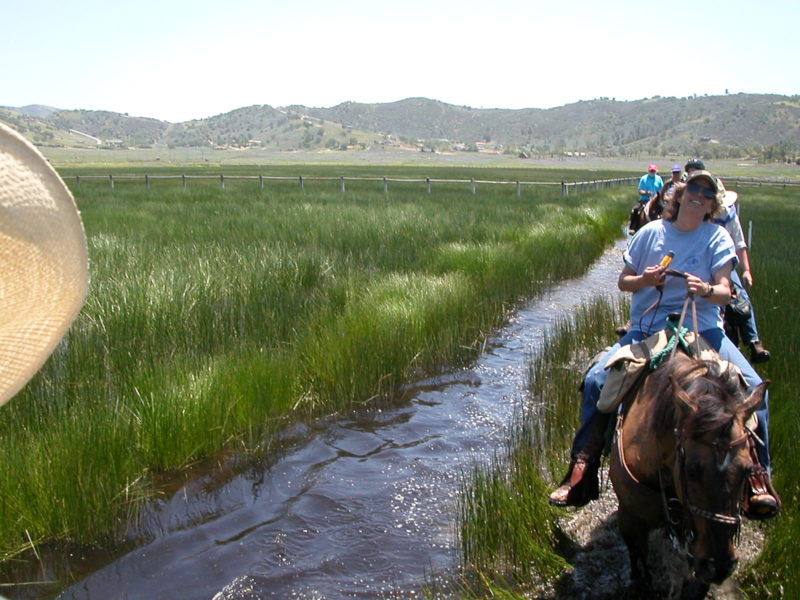 The Bear Valley Springs Equestrian Center and campground will be our site to camp.  The equestrian center boasts 42 acres of equestrian amenities.  There are over 50 miles of trails groomed and maintained by BVS resident trail crews.  The valley, mountains, and trails provide views of abundant wildlife, Surprise Lake (which is known to appear and disappear on wet vs dry years), wildflowers, and spectacular views of the valley.
Save the dates of June 7-13!  Join ETI's 33rd Annual Spring Ride and enjoy the hidden wonders of Bear Valley Springs.  This year, in addition to the charms of Bear Valley Springs, we'll be helping Bear Valley Springs celebrate its 50th year!  You will find the sign-up application in the April ETI Magazine and on ETI's website.
Ride co-chairs Kelli Land and Jeanne Gonzalez look forward to seeing you there.  Come play with us!
Save the dates! See you at ETI's 34th Annual Spring Ride!
Contact Kelli Land [818-472-2043 (cell) or email: [email protected]] or Jeanne Gonzalez at (661) 212-8313.
Download and print your 2020 Bear Valley Springs application and waiver forms HERE.