Trail Trials
A Trail Trial is a judged competition on the trail using natural and man-made obstacles, judging the horse/rider combination on their performance under difficult situations they may come across on a modern day trail.
The program provides a Standard Set of Rules for each of ETI National's Corrals to use when judging competitions. These competitions can be done by any rider no matter what their level of experience.
Play the video on this page for a taste of the Trail Trial experience…
Check the Local Corral Event Calendar for upcoming Trail Trials.
Junior Ambassadors
Trail Trials Application 2016
ETI National Sanctioned Jr. Ambassadors Trail Trials will be held on Saturday, May 28, 2016 at Vasquez Rocks Natural Park, 10700 West Escondido Canyon Rd., Agua Dulce, CA 91390. Proceeds go to the Multiple Sclerosis Society. Download the application form here.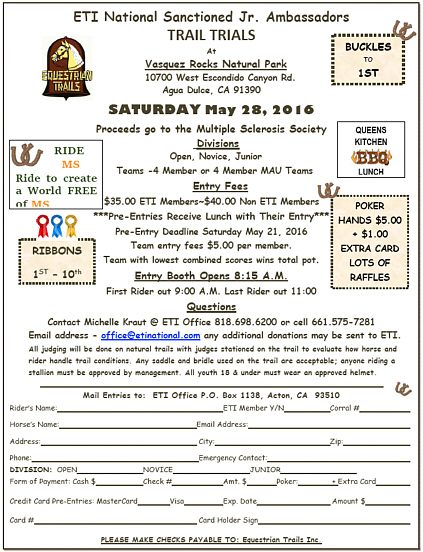 Trail Trials Rules
The rules for Trail Trials are contained in this 12-page document which can be downloaded here, then viewed and/or printed.